Hey Friends and Fans,
We just got word that we will be featured on the Deuce Radio show which is broadcast on KWSS in the USA which attracts over 18,000 listeners, Indie 104 with over 150,000 listeners and a large number of other FM, Digital and Internet Stations aroud the world!
A full list of stations can be found at http://www.deucemp.com/deuce_show.html
Listen to the podcast here!
Thanks,
Herc
Ok fellas,
I'm posting this on my blog, but only for a short while. It's the new tune Simple Stupid by yours truly!
It's best listened to LOUD, so make sure you CRANK it!
Herc
Hey Folks,
Ok so we are just home from 2 dates we did with Finger Eleven.
Turns out that Bryan from Hail the Villain has had to cancel his 9 week tour due to some throat issues he's had and it has created an opportunity for us. We were offered to take their spot on one date up in Grand Prairie, Alberta at Rock City.
Neither of our two bass players was able to make the show, but we did not want to turn this down. Thankfully a friend of ours Erin Dobbin learned 11 songs 24 hours before we took the stage and we were able to make it happen.
One smashed out window, and a caved in trailer roof later, we arrived to find out that The Envy who was touring with Finger Eleven were stuck back in BC because their van had broken down. Now we were moved from opening of 3 bands, to immediate support. We were also checked out by management and offered to play two further dates, one in Cold Lake, AB and another in Ft. McMurray, AB of which we could only do the one on such short notice and with a replacement bass player who thought he was signing on for 1 gig.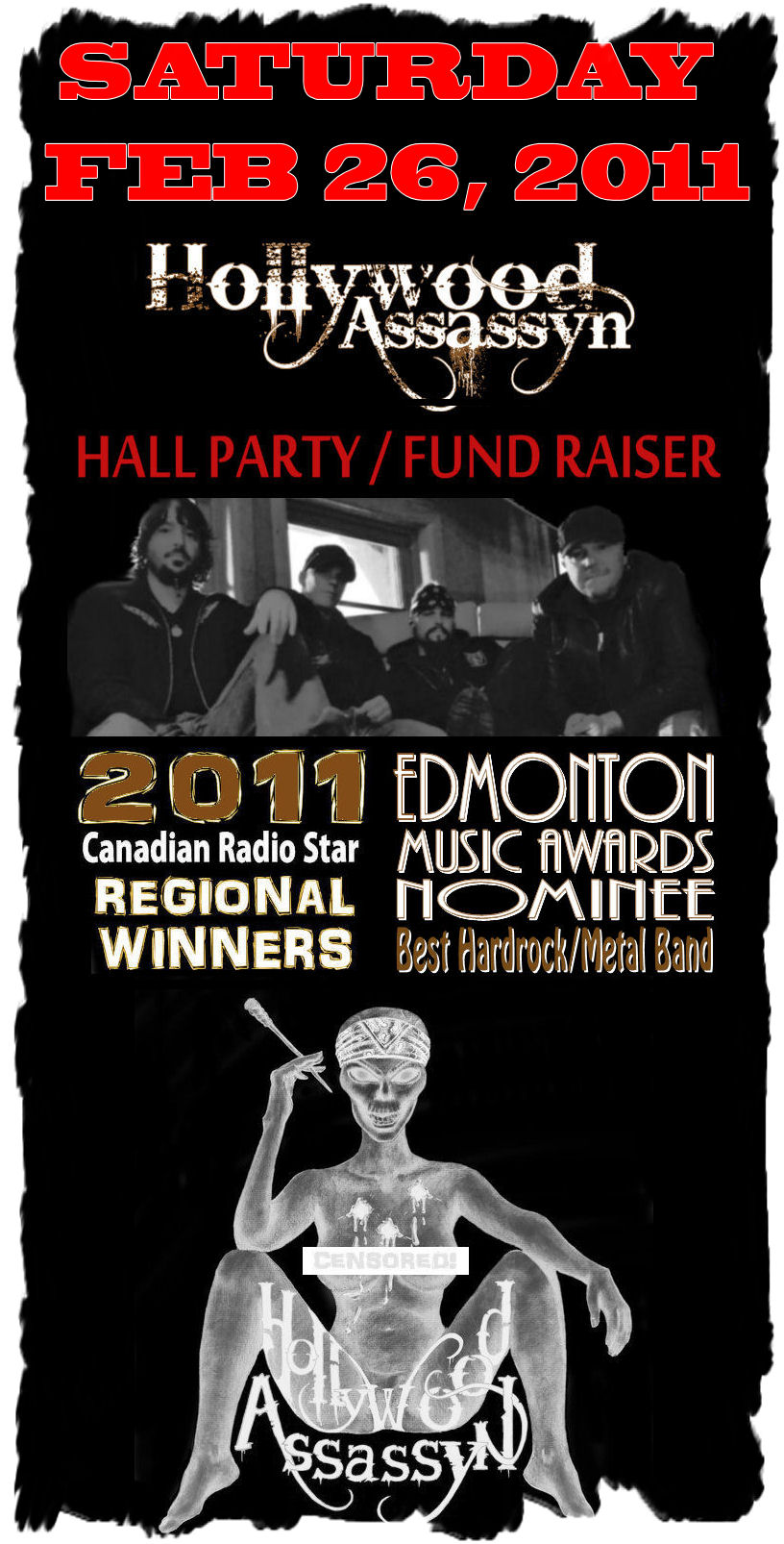 We did take the Cold Lake gig and both shows were amazing. Crowds continue to really eat up our brand of hard rock and merch sales are going strong which is great cause we are so fucking broke!
So, things were kick ass and we really appreciate the boys from Finger Eleven giving us this opportunity.
Next up is an acoustic set by Herc Magnus Feb 20th at The Pint and then the fund raiser hall party so we can hit a tour! Please check our facebook page for those dates!
http://www.facebook.com/hollywood.assassyn
Later kids!
Herc
Great news today!
We have just been notified that we have wont he regionals for the 2011 Canadian Radio Star song writing competition. We have won a nice prize package but the real prize is that we are being flown to Toronto on March 11 – 13 to be showcased a Canadian Music Week. This will be huge exposure for the band!
Here are some links to check things out;
Radio Star: http://www.radiostar.ca
Canadian Music Week: http://www.cmw.net
Canadian Music Fest: http://www.canadianmusicfest.com
We are super excited about this win and if you are in the Toronto area, please come watch us play!
Welcome to the new website for Hollywood Assassyn where we will be focusing most of our online prescence.
One particular item we are particularly proud of is our completely unique free music system in which you can help us to achieve a GOLD STATUS single download and get a ton of free music for doing so. Just click on the FREE MUSIC link at the top of the page to read more.
This site will be in constant development so please check back often!
Hollywood Assassyn
Hey Loyal Hollywood Assassyn Fan,
As promised here is the entire EP for download. It's in a zip format, so you'll have to upzip it, but there ya go! Thanks for helping us out!