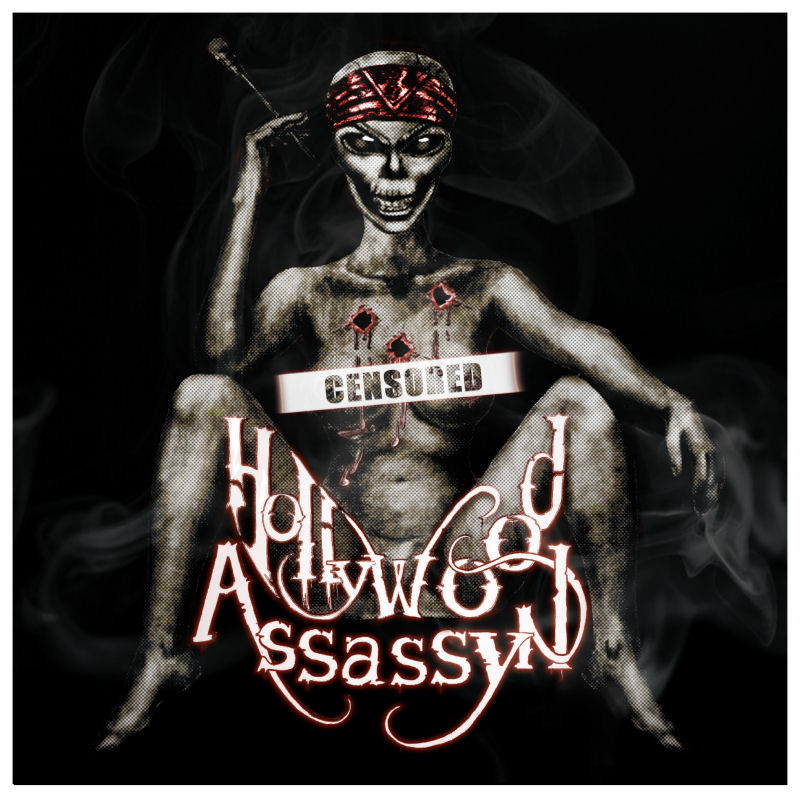 Hollywood Assassyn is making a come back! We are looking for the loudest, most intimate, bad ass venue to play a show at. We haven't played in over a year, and we have new stuff to play for you. We have narrowed it down to these fine establishments known for their awesome reputations of good times, who gives a fuck, and rock n roll. Just the way it should be!
Please vote for where you would like to see us play, and we will oblidge!
Bring all your buds and girls, and let's have a good old time.
[yop_poll id="2″]
Hey Friends and Fans,
We just got word that we will be featured on the Deuce Radio show which is broadcast on KWSS in the USA which attracts over 18,000 listeners, Indie 104 with over 150,000 listeners and a large number of other FM, Digital and Internet Stations aroud the world!
A full list of stations can be found at http://www.deucemp.com/deuce_show.html
Listen to the podcast here!
Thanks,
Herc
Yup, Hollywood Assassyn is at it again back to back with Vince Neil.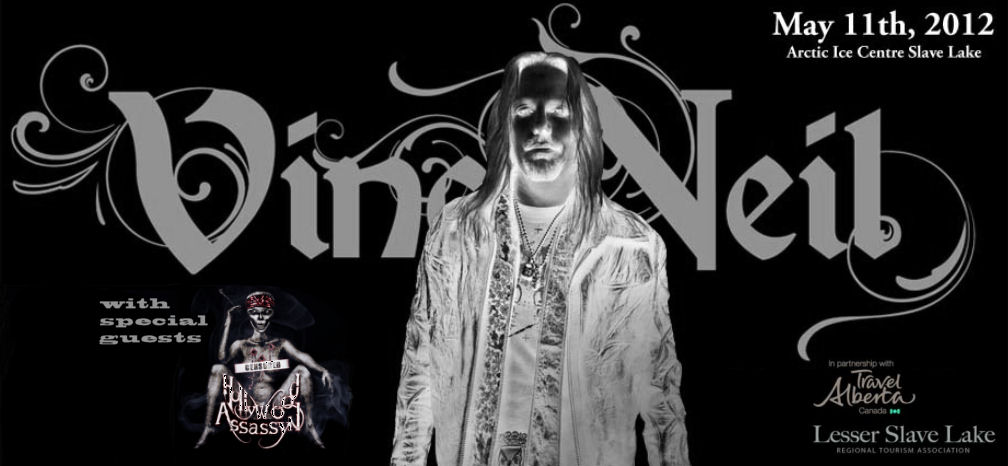 We will be playing live at the Field House/Artic Ice Center on Friday May 11, 2012.
You can get tickets here: Slave Lake Aid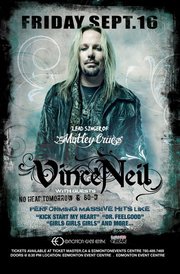 Hey Everyone,
A great new show just got added!  This will be happening on Friday, Sept 16th, 2011.
Vince Neil
Hollywood Assassyn – http://www.myspace.com/hollywoodassassynmusic
No Heat Tomorrow – http://www.myspace.com/noheattomorrow
Go to our Facebook event for info on how you can get cheap ass tickets!
Herc
Hey Folks,
Ok so we are just home from 2 dates we did with Finger Eleven.
Turns out that Bryan from Hail the Villain has had to cancel his 9 week tour due to some throat issues he's had and it has created an opportunity for us. We were offered to take their spot on one date up in Grand Prairie, Alberta at Rock City.
Neither of our two bass players was able to make the show, but we did not want to turn this down. Thankfully a friend of ours Erin Dobbin learned 11 songs 24 hours before we took the stage and we were able to make it happen.
One smashed out window, and a caved in trailer roof later, we arrived to find out that The Envy who was touring with Finger Eleven were stuck back in BC because their van had broken down. Now we were moved from opening of 3 bands, to immediate support. We were also checked out by management and offered to play two further dates, one in Cold Lake, AB and another in Ft. McMurray, AB of which we could only do the one on such short notice and with a replacement bass player who thought he was signing on for 1 gig.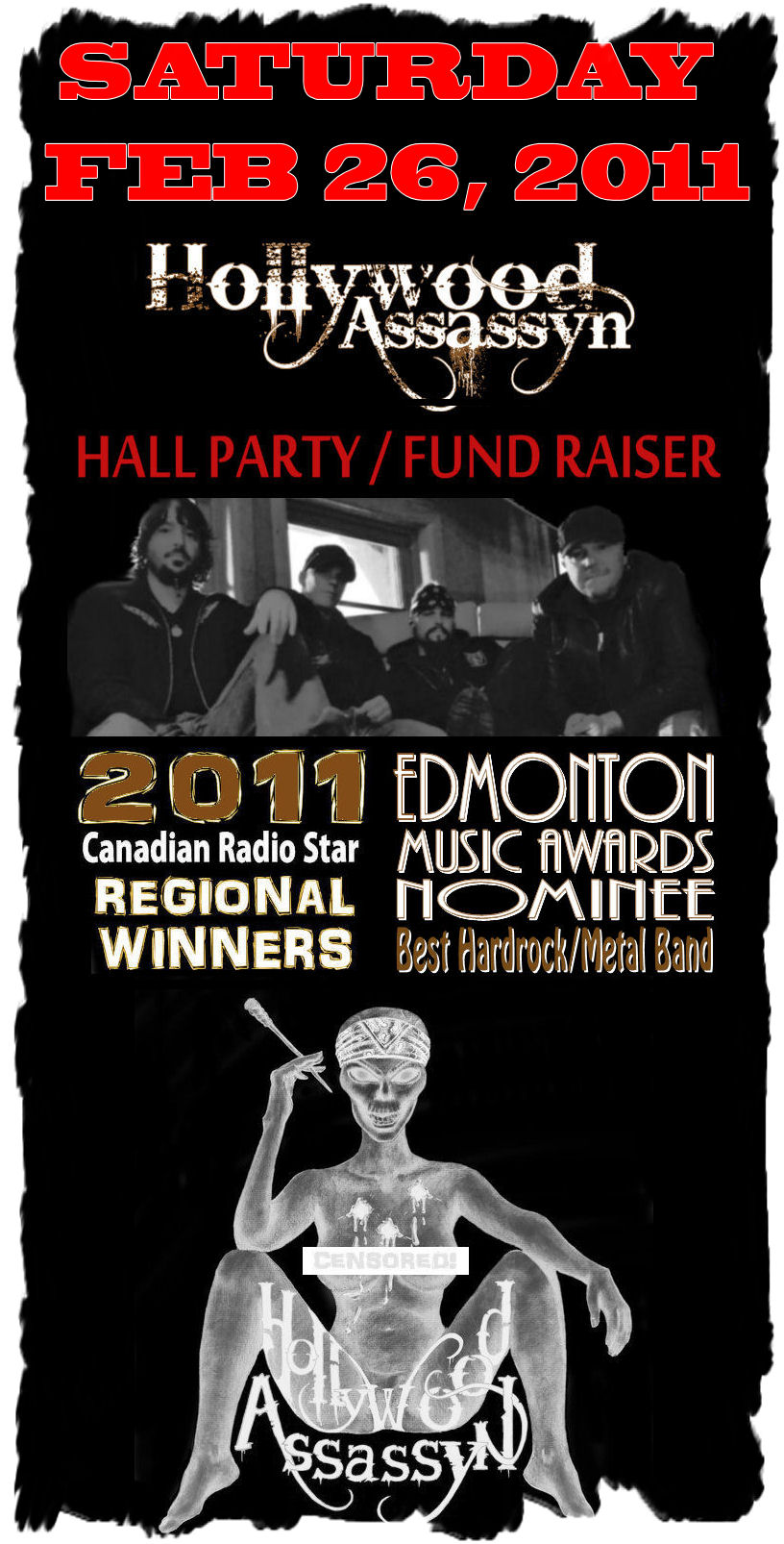 We did take the Cold Lake gig and both shows were amazing. Crowds continue to really eat up our brand of hard rock and merch sales are going strong which is great cause we are so fucking broke!
So, things were kick ass and we really appreciate the boys from Finger Eleven giving us this opportunity.
Next up is an acoustic set by Herc Magnus Feb 20th at The Pint and then the fund raiser hall party so we can hit a tour! Please check our facebook page for those dates!
http://www.facebook.com/hollywood.assassyn
Later kids!
Herc
Hollywood Assassyn will be playing 2 slots at the Boonstock Music Festival this year. We are honored to play the Main Stage this year with the following bands:
A Perfect Circle
Three Days Grace
Sublime
Seether
Five Finger Death Punch
Crash Kings
Dirty Heads
My Darkest Days
Jonas and the Massive Attraction
Like A Storm
And the B-Stage with these bands:
Creedence Clearwater Revisited
Rocky Hot Box
All Else Fails
No Heat Tomorrow
Night at the Chelsea
Silo
Oldbury
Keep Six
Gunshy
Greg Wood
The Dryland Band
Call Before You Dig
The Order of Chaos
Seven Straight
Kryple
The Red Threat
You can get tickets and more info from the main website located here; http://www.boonstock.ca
Hollywood Assassyn will be opening the night along with No Heat Tomorrow and the new sensation Hail The Villain at the Pawn Shop in Edmonton, Alberta. This takes place on Friday, February 4th at 8pm.
Get all the details about this show on our Facebook Event Page:
http://www.facebook.com/event.php?eid=185013744849234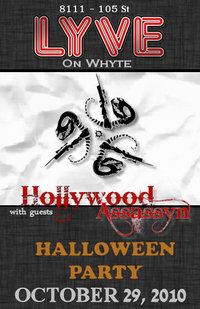 Hollywood Assassyn is headling in Edmonton for HALLOWEEN at Lyve On Whyte! We're gonna dress up, get drunk, do something stupid, something awesome and rock the shit out of this place. Joining us will be Mars and Venus and Five Years Further!
Tickets NOW AVAILABLE online exclusively through YEG Ticketing company!
$10 ADVANCED/$15 DOOR
Please purchase ticks from the link for the band you are supporting so that they can be paid properly! Support your local musicians people!!!