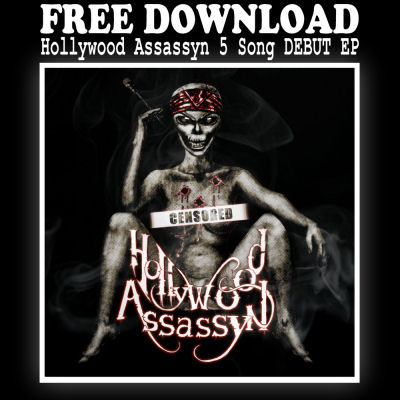 Hello friends and fans!
And thank you for visiting and caring about an Indie Band like us!
So in an attempt to spread both our name and our music we have decided to give away something that you absolutely cannot get your hands on!
We get asked all the time for our original 5 song EP from our debut year as a band in 2008, but we don't have it on iTunes or available for download anywhere. So what I'm gonna do is make a deal with you.  You help us get more exposre and Facebook fans, and we'll give our are debut album!
Step 1.

LIKE US on Facebook! Just click the little like button right below here!
Step 2.

Share this free give away by clicking on the button below and when the Facebook share box comes up, please copy and paste this message into it, or make it your own!

Hollywood Assassyn is giving away their debut 5 song EP just for liking their facebook page! Click on this link to get your copy for free!
Once those two steps are completed, then BAM, you'll be whisked to a download page where you can download our 2008 EP with the following songs:
Variations
Right Here
Fortune Faded
Short Lived
Heed
Pretty Shade of Blue